A more organised National Audit Institution in respect of the structure and audit scope could be traced back to 1906 when the Auditor General of the Federated Malay States, W.J.P Hume was appointed. For the Straits Settlements, even though the Audit Institution has been traced as early as the end of the 19th Century, it was centred in Singapore and only involved two Malayan States namely, Penang and Malacca. Both the institutions were merged in the year 1932 and placed under the Director of Colonial Audit centralised in London. Auditingand the preparation of the audit report were carried out by the Auditor of the Straits Settlements and the Federated Malay States in Kuala Lumpur. When the Federation of Malaya attained its independence in 1957, the post of Director of Audi Malaya was changed to the Auditor General. The appointment as well as the responsibilities of the Auditor General are spelt out under Article 105 of the Federal Constitution and the Audit Act 1957.
The Audit Institutions in Malaya has been established during the British Colonial administration in the early 20th Century to strengthen the Government financial management system. At that time, the office of the Auditor General was formed separately into the Federated Malay States and the Straits Settlements. In each of the Federated Malay State, the Institution was known as the Audit Office and was headed by a State Auditor. The headquarters of the Audit Office was situated in Kuala Lumpur and was headed by a Chief Auditor.
FEDERAL
Symbolises the mandate and independence given to the Auditor General to carry out the audits on the account of Federal Government, State Government and Federal Statutory Bodies as well as the activities of the Ministry/Department/Agency and Companies under the Federal and State Government.
TWO STALKS OF PADDY
Symbolises the efforts and perseverance of the audit personnel to continuously improve the productivity of the department as well as producing balanced audit report
CIRCLE
Symbolises the strength and integrity of team spirit among the audit personnel as a key contributor towards promoting excellence in financial management and accountability in the public sector in the globalisation era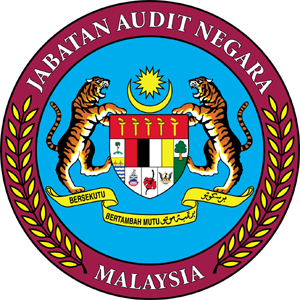 MAROON
Represents the corporate image and identity of the National Audit Department
YELLOW
Stands for the sovereignty of the constitutional monarch, the King who appoints the Auditor General on the advice of the Prime Minister and after consultation with the Council of Rulers
WHITE
Represents the Department's modesty and transparency in carrying out its responsibility to ensure accountability and integrity in public sector financial management