GENERAL QUESTIONS
How to apply for vacant posts/ positions at the National Audit Department of Malaysia (NAD)?
All positions offered by the National Audit Department are managed by the Public Service Commission. Job application can be made through the link below:
http://www.spa.gov.my/Portal/Pemohon_Pekerjaan
NAD only handles applications for the position of Office Assistant (PAP) and Office Driver. Any information on these vacancies will be advertised at the Department's website from time to time.
How to apply for practical training in the National Audit Department?
All applications for practical training in NAD (including the branch offices throughout the states) must be sent to:
BAHAGIAN PENGURUSAN SUMBER MANUSIA
JABATAN AUDIT NEGARA
NO 15 ARAS 1 PERSIARAN PERDANA PRESINT 2
PUSAT PENTADBIRAN KERAJAAN PERSEKUTUAN
62518 PUTRAJAYA
What /How is the procedure for applying for a visit to the National Audit Department?
Any requests for a visit to the NAD/AAN should be forwarded to the following address below:
SEKSYEN PEMBANGUNAN DAN PENYELARASAN
AKADEMI AUDIT NEGARA
PERSIARAN TIMUR 3, BANDAR ENSTEK
71760 NILAI, NEGERI SEMBILAN
+06-782 2020
Where can the Auditor General's report be obtained?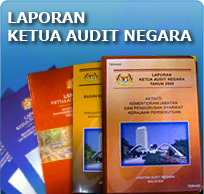 All AG's reports can be downloaded from the NAD's website through the following link:
i. FINANCIAL
ii. ACTIVITIES
iii. COMPANIES
iv. STATE
Where can we obtain the books of financial management excellence from the Perspective of the National Audit Department?
These books are obtainable any branch INTAN.